Right then competition time!!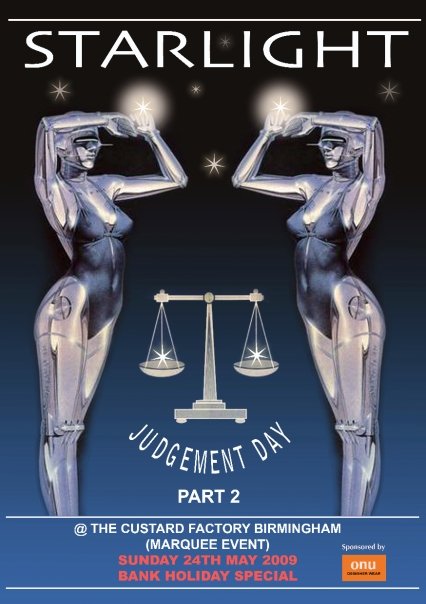 starlight PRESENTS:- judgement day part II
Bank holiday sunday 24th may 2009 , Custard Factory B'HAM
After the masisve Xmas Party in the Marquee Starlight returns to present Judgement day part II featuring a star studded oldskool lineup fetauring many of the pioneers from the rave scene that set the standard for todays dance music revolution. For those who were lucky to attend Judgement Day held at Bingley hall, Staffordshire will know what to expect an event that made its name in rave folklore and still talked about today. For those who never well come along and experience the unique Starlight atmosphere !

Artists on the night incldude:-

RAT PACK - Topbuzz - MICKEY FINN - LENNI - BASSMAN - KENNY KEN - and many more
MC LENNI has given JungleTechno 5 pairs of tickets for your chance to win a Pair of tickets simply answer the following question:

Email your answer to:-
competition@jungletechno.co.uk
(ONE ENTRY PER EMAIL ADDRESS)


Please incldue iyour full contact details
(NAME / PHONE NUMBER / EMAIL ADDRESS)
Closing date for the competition is on friday 22nd may MIDNIGHT winners will be notified on saturday 23rd MARCH 2009.

Good luck and we look forward to seeing you on the night!